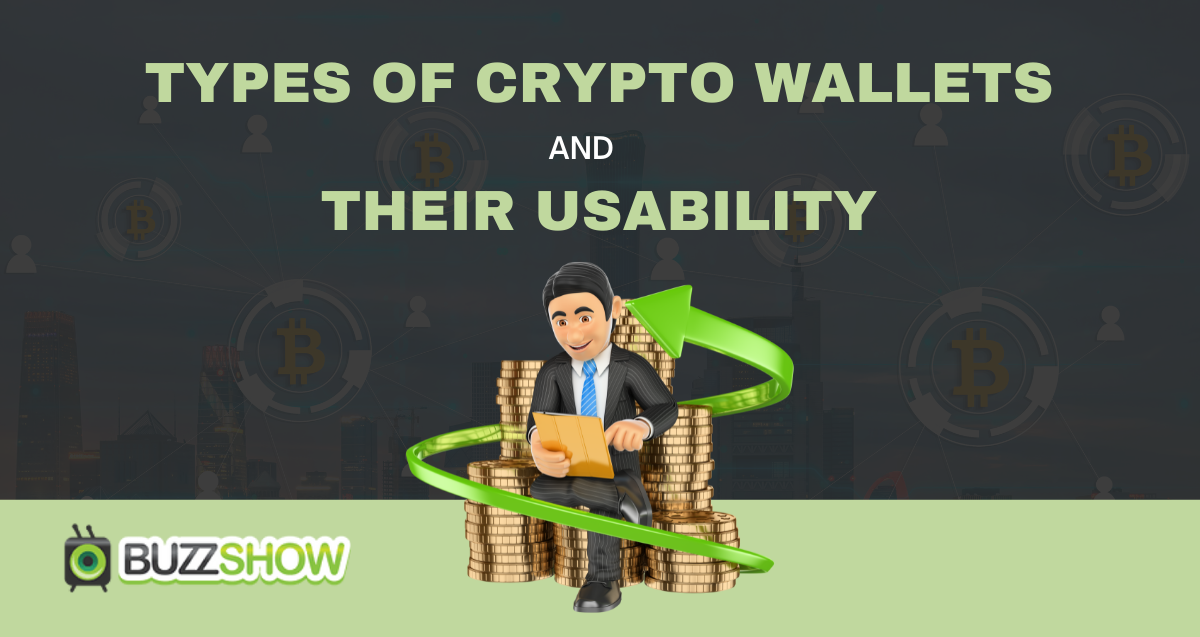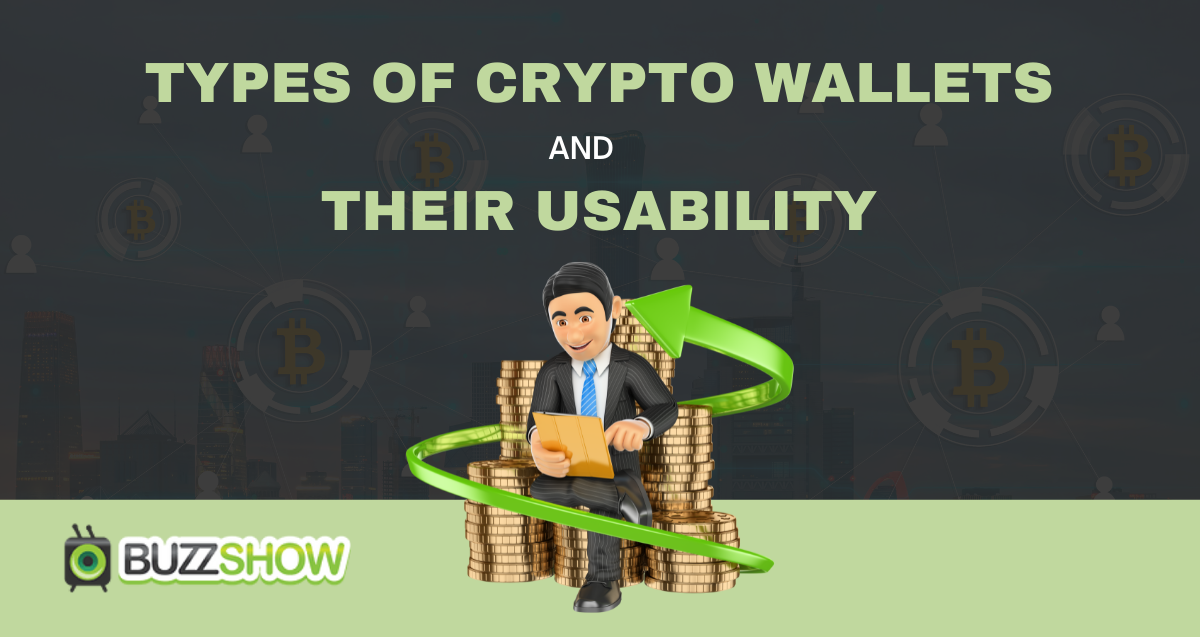 Types of crypto wallets and their usability
Wallets and crypto wallets are pretty much the same. In a wallet, you will keep cash and credit cards. Similarly, in crypto wallets, we keep our crypto in them. Moreover, it is beneficial to store cryptocurrencies in a wallet if you have invested in them.
You can store your private keys and the passwords that allow you to access your cryptocurrencies in a crypto wallet and transfer them when you buy digital currency through a trading platform or exchange. Wallets for cryptocurrencies include hardware wallets like the Ledger or devices that work offline, as well as mobile apps like Coinbase Wallet and BuzzShow wallet, making it as simple as paying online with a credit card.
Importance of a Crypto Wallet
Crypto wallets are storage solutions for your crypto. Many cryptocurrency exchanges allow you to store your crypto in an exchange wallet. You do not need to store your coins in cold storage or install any app on your computer. Your assets are kept on the blockchain, and you will obtain credentials data consisting of private and public key pairs. An alphanumeric identification called address is constructed based on these keys. By that means, the address indicates where currencies can be delivered to the blockchain and where funds can be received. However, private keys should never be shared. You can access your assets from your wallet only with private keys. You can also use these keys to send and receive crypto. These keys give you ownership of your digital currency and allow you to transact with it. You lose your assets if you lose your private keys. 
That's why it's crucial to utilize a trusted wallet service to keep your crypto wallet safe. When picking a storage option for your crypto, keep in mind your risk tolerance and goals, as well as your degree of crypto understanding.
you can check Crypto Wallet: Why You Need One? How To Use It?  for more information.
Benefits of Crypto wallets 
Using a crypto wallet, you can effortlessly access your crypto assets. Moreover,
You can save all of your digital assets in one place.

You own your private keys 

You can send or receive cryptocurrency from and to any place.

Interact using usernames rather than lengthy, hexadecimal "public key" addresses.

Dapps can be found in a variety of places (decentralized finance apps)

You can visit any crypto accepted store.
Withdrawal with Crypto Wallets
The following are the steps for making a withdrawal from your cryptocurrency wallet.
Tap "TRANSFER" on your crypto wallet's home screen.

From the menu, choose "WITHDRAW."

Then, from the menu, choose "CRYPTO."

From the menu, choose "External Wallet."

To find the withdrawal address you whitelisted, tap "Withdraw."

After entering the needed amount, tap "Withdraw."
Types of Crypto wallets
Depending on the platform and device you're using, there are different types of wallets. The three primary types of crypto wallets are hardware, software, and paper wallets. They might be characterized as cold or hot wallets based on their work. Hardware wallets are the most secure, while software wallets are more accessible and handy. Paper wallets are now outdated and unstable. In reality, crypto wallets do not contain cash but instead interact with the blockchain to provide inflation. Transaction fees vary by cryptocurrency, wallet, and type of transaction.
Hardware Wallets
Hardware wallets, also called cold wallets, store your keys entirely offline on a device that is not connected to the internet. The keys to utilizing cryptocurrencies are saved on thumb drives that are kept in a secure area and only linked to a computer when necessary. Cold wallets are considered by crypto enthusiasts to be the best method of safeguarding digital assets. Hardware wallets are difficult to attack due to their offline nature. The objective is to establish a balance between security and practicality. This isn't to imply there aren't still hazards.
It is rather inconvenient that hardware wallets are lost or misplaced for a number of reasons. Losing your investment keys, which are irrecoverable once lost, may result in a major financial setback.
Software Wallets 
Hot wallets are another term for software wallets. A software wallet is like your online bank account, whereas a hardware wallet is like the billfold you carry in your purse. They're often linked to an exchange, are also user-friendly, and have helped to bring the market to a larger audience. However, there are additional risks to keeping your assets online. Hot wallets are available in a wide range of styles and sizes. You may use one through the crypto exchange where you purchased your coins, by installing software on your computer desktop, or by downloading a smartphone app.
Make sure the keys are kept in an app when selecting a two-factor authentication program. As a result, doing a crypto transaction is as straightforward as using an online bank account, payment system, or brokerage.
However, because they all expose your public and private keys to the internet, you may be more exposed to hackers than you would be if you used a different technique.
Paper Wallets
An actual wallet with QR codes inscribed on it is known as a paper wallet. You can download the code from some wallets in order to generate new addresses if there is no internet connection. 
They can't be hacked, but the sheer number of flaws makes them dangerous. The inability to transmit partial funds is a big problem. Because paper wallets are designed to be single-use and do not support partial transactions, making them cumbersome. It is possible to set up paper wallets as long as strict security measures are implemented.
Web Wallets
Web wallets, also known as crypto exchange wallets or online wallets. As the name implies, they are accessed via your browser and are frequently hosted by a crypto exchange like Coinbase. Login into your online bank account is akin to logging into a web wallet. These wallets are incredibly user-friendly and allow for quick transactions, but they are also the least secure form of keeping cryptocurrency since they are more easily hacked. Some online wallets store private keys, which are vulnerable to DDOS attacks. They can be hosted or non-hosted. Since money is always at the forefront, non-hosted is favored. 
Mobile Wallets
Mobile wallets are similar to online wallets in that they are accessed using an app on your phone. They often employ QR codes to complete transactions, making it exceedingly convenient to make crypto purchases while out and about. However, because electronic wallets are linked to the internet, they are vulnerable to cyber-attacks. Furthermore, some mobile wallets are hosted by cryptocurrency exchanges and so remain custodial wallets, implying that you do not control your private keys.
Desktop Wallets
Desktop wallets are cryptocurrency wallets that are installed on your computer's desktop like any other piece of software. Because a machine linked to the internet offers basic security risks, anti-virus software is essential. However, unlike mobile wallets, the majority of them can be accessed without the use of the internet, making them more secure. These crypto wallets typically include several levels of protection, making them more difficult to use for crypto novices. They are simple to use, provide privacy and anonymity, and do not require the involvement of a third party. The computer must be backed up on a regular basis. Exodus, Bitcoin Core, Electrum, and other desktop wallets are popular.
BuzzShow Network- An Exceptional Crypto Wallet
Several exchanges go above and beyond for security and safety to eventually move the crypto onto your storage rather than rely on the exchange. As a result, software wallets have become a viable alternative to hardware wallets, as they do not rely on a physical token and instead rely purely on software.
BuzzShow network is a decentralized blockchain-based platform. The platform rewards its users with Goldies (GLDY), which are the native utility tokens of the network. The Goldies are rewarded to each user who uploads, curates, watches, and shares videos on the platform. The platform provides a wallet to each registered user. Goldies are added to the registered user's wallet after every action they perform. Users may view their profits as well as their account balance. Users can also purchase Goldies and withdraw them. They can also convert Goldies to ETH tokens and Polygon Matic. In addition, BuzzShow Network's wallet is reflected and synced on Polygon Network. Users can now complete transactions quickly, easily, and at low transaction costs.
In short, they can keep an eye on every transaction with BuzzShow Network's wallets.
The Takeaway
Your crypto assets are best stored in a crypto wallet, and a crypto wallet can keep your coins safe. Pick the wallet that best suits your needs. Regardless of which wallet you choose, make sure you back it up on a regular basis and use the latest versions of software.